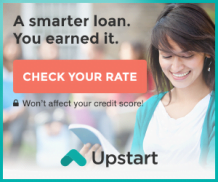 Peer to Peer Lending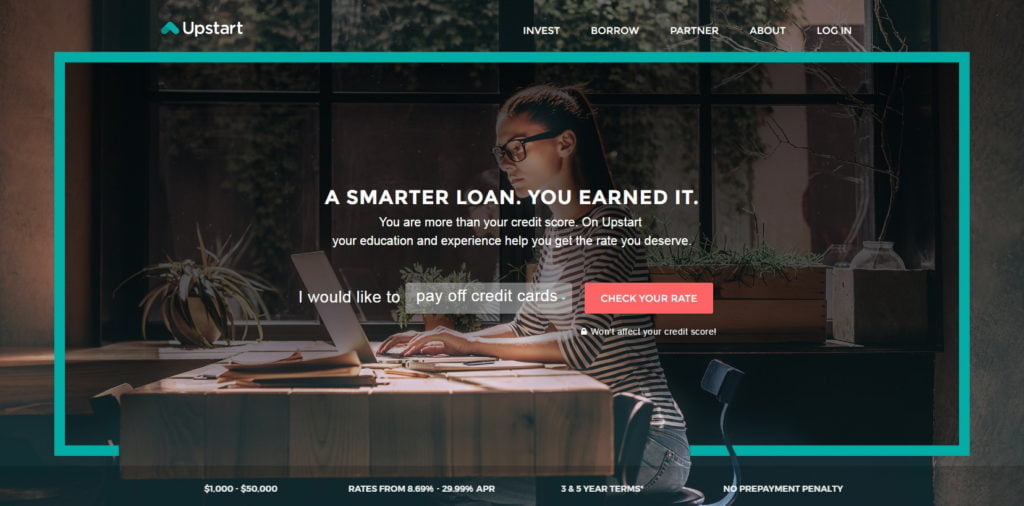 Upstart is an online peer-to-peer lending platform founded by ex-Google employees in April 2012, headquartered in Palo Alto, California, United States.
Upstart provides access to fixed rate personal loans with a new approach, the past traditional underwriting models which focused on credit scores and debt to income ratio to determine the creditworthiness of an applicant, are substituted with new innovative methods. Instead of focusing solely on credit history and scores, they even look at nontraditional factors, like educational background, grades, and earning potential to estimate creditworthiness.
Upstart has a solid backing from firms like Google Ventures, KPCB, Khosla Ventures, Founders Fund, First Round Capital, Eric Schmidt, and Mark Cuban.
Service Details
| | |
| --- | --- |
| Safety | 128 bit secure sockets layer. COMODO CA Limited. |
| State Licensed | Yes |
| Loan Amount | $3000 to $35000. |
| APR | Starting at 4.66%. Vary by state |
| Loan Period | 3 Years |
| BBB Rating | A+ rating |
| Credit Score Required | 620 or above |
| Funding Time | As soon as next business day*. |
States Serviced by Upstart
The states serviced may change without prior notice, visit the lender's website for up to date information.
Alabama
Alaska
Arizona
Arkansas
California
Colorado
Connecticut
Delaware
District of Columbia
Florida
Georgia
Hawaii
Idaho
Illinois
Indiana
Iowa
Kansas
Kentucky
Louisiana
Maine
Maryland
Massachusetts
Michigan
Minnesota
Mississippi
Missouri
Montana
Nebraska
Nevada
New Hampshire
New Jersey
New Mexico
New York
North Carolina
North Dakota
Ohio
Oklahoma
Oregon
Pennsylvania
Rhode Island
South Carolina
South Dakota
Tennessee
Texas
Utah
Vermont
Virginia
Washington
Wisconsin
Wyoming