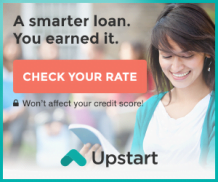 Peer to Peer Lending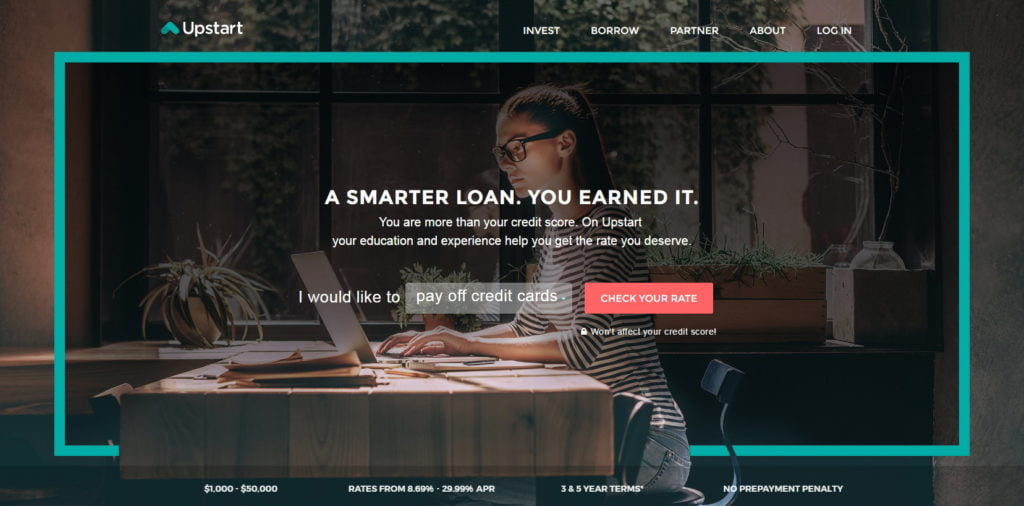 Upstart is an online peer-to-peer lending platform founded by ex-Google employees in April 2012, headquartered in Palo Alto, California, United States.
Upstart provides access to fixed-rate personal loans with a new approach; the past traditional underwriting models which focused on credit scores and debt to income ratio to determine the creditworthiness of an applicant are substituted with new innovative methods. Instead of focusing solely on credit history and credit score, they even look at non-traditional factors, like educational background, grades, earning potential, to estimate creditworthiness.
Upstart is one of the leading marketplaces through which online lending is facilitated. It provides the means of obtaining a personal loan via the consideration of some variables which are not the regular traditional ones, education, and employment, for instance, which are then used to predict the loan worthiness expertly or simply put the creditworthiness of the borrower.
Upstart has substantial backing from firms like Google Ventures, KPCB, Khosla Ventures, Founders Fund, First Round Capital, Eric Schmidt, and Mark Cuban.
Through its partnership with banks, Upstart can provide access to a personal loan in the range of $1,000 to $50,000, and can be obtained in a business day time after approval.
Based on the recent trend in the technological advancement, more precisely artificial intelligence and machine learning, upstart has been able to develop an income and default prediction model employed in the determination of prospective customer credit reliability. Upstart considers factors like academic variables and work history of the individual, in addition to the traditional criteria like FICO score, income, and credit report, to fully develop a statistical model of the potential borrower financial strength and propensity to repay loans.
---
Eligibility Requirements
Must be a U.S. citizen and currently residing in the U.S. or a permanent resident and presently living in the United States.
Must be at least 18 yrs old (applicants from Alabama and Nebraska need be at least 19 yrs old)
Must have a valid email account and social security number.
Must have a full-time job, a full-time job offer commencing in 6 months, a regular part-time job, or another source of steady income.
Must have an active personal banking account and should meet the minimum credit requirements.
---
---
Features of UpStart Personal Loan
The range of funds available for borrowing is between $1,000 and $50,000, with an APR varying from 7.46% to 35.99%* and origination fee ranging from 0% to 8% on the amount obtained.
There is no change in the interest rates as they are fixed all through the life of the loan; neither does the monthly repayment amount change.
There are two repayment plans available in the form of three years or five years; also, there is no prepayment penalty if you wish to pay off your loan early.
The timeframe to receive the loan proceeds after approval is next business day for at least 99% of borrowers if all steps are completed before 5 pm ET on a business day.
Qualification for the loan can be accomplished with a minimum credit score of 620, in addition to the credit score, other factors such as employment, income, and educational history is also considered by Upstart.
---
How To Apply For Upstart Personal Loan
Applying for a personal loan through Upstart is a reasonably straightforward process. The first step is to check and determine the best rate available for you by answering a few basic questions like your name, purpose of the loan, profession, education, date of birth, residence address current employment status, and the company you work for. This step is simple and will help you to decide whether you would like to proceed with the actual application based on the loan offer you receive. This step will not impact your credit score, as Upstart will perform a soft inquiry on your credit, which does not lower your credit score.
Once all necessary details are entered into the online form, factors such as your education, credit score, work experience, and credit history will then be used to determine and calculate the required rate and to provide you a loan offer.
Now, once the loan offer is agreed upon, submission of the actual application is the next step. You will be asked to provide personal information such as your social security number, driver's license, employer's details, and other relevant information. It is at this particular stage that a thorough verification of the accuracy of the financial information provided is done via a hard inquiry. Upstart also verifies the academic background and employment information provided in the application.
Upon completing the review and verification process, you will be notified whether the application is approved or declined. If approved, you can review the repayment term, amount approved, interest rate, and monthly repayment amount and accept or reject the loan depending on your requirements.
---
---
Benefits Of Upstart Personal Loan
Unique Predictive Model Used by Upstart
Upstart uses a unique predictive model to determine the creditworthiness of an applicant by using artificial intelligence and machine learning to streamline the entire loan process. Upstart makes use of modern data science and takes into account factors such as education, SAT scores, GPA, the field of study, work history, and earning potential to predict if the applicant is creditworthy.
This unique model benefits borrowers who have been disqualified by some other platforms due to lack of credit history, as Upstart considers other factors beyond credit history, and this feature puts the company in the front seat among all similar credit companies.
No Issue with Purpose of the loan
Upstart does not scrutinize the purpose for which a fund requested is intended. The reason for taking the loan may be due to credit card payoffs, medical bills, tuition fees, repayment of student loans, and even if you need to start up or expand a business.
Fixed Interest Rate
Upstart provides access to personal loans with a fixed rate. However, the individual rate an applicant will be offered is determined on his education, work experience, credit history, and income.
To understand the total cost of the loan, it is essential to consider the APR on loan. Which is the annual percentage rate, this includes the rate of interest and all sorts of other associated fees.
Funding Speed and Flexibility
The speed at which Upstart fund loans is super fast if the application is approved and accepted before 5 pm ET Monday-Friday, you should get funded by the next business day. After 5 pm ET Monday-Friday, you should get your loan amount two business days later. For loans that are used for educational purposes, have an additional three business day waiting period.
Also, the flexibility in the amount that can be borrowed makes it the top choice for borrowers. People opt for Upstart because of its minimum loan amount, which is $1000 that is way below many competitors. Hence, borrowers in need of small amounts easily find their way to Upstart loan.
Note:- Some states have state-specific minimum loan amounts.
Availability of Online Dashboard
With the Upstart online dashboard, you can change and monitor your payment schedules. At the same time, you can use it to alter scheduled payment dates, recurring payment amounts, and also cancel any scheduled payment when necessary with no stress.
Multiple or Additional Payments
Through the Upstart dashboard, you can make additional one-time payments with no extra charge. However, this arrangement will not change your scheduled monthly payments. Also, there is no extra fee to make extra manual payments to pay down the loan.
Upstart allows borrowers to select their payment preference; if you get paid twice a month by using this feature, you can easily schedule bi-monthly automatic recurring payments, on meeting specific requirements.
Service Details
| | |
| --- | --- |
| Safety | 128 bit secure sockets layer. COMODO CA Limited. |
| State Licensed | Yes |
| Loan Amount | $3000 to $35000. |
| APR | Starting at 4.66%. Vary by state |
| Loan Period | 3 Years |
| BBB Rating | A+ rating |
| Credit Score Required | 620 or above |
| Funding Time | As soon as next business day*. |
States Serviced by Upstart
The states serviced may change without prior notice, visit the lender's website for up to date information.
Alabama
Alaska
Arizona
Arkansas
California
Colorado
Connecticut
Delaware
District of Columbia
Florida
Georgia
Hawaii
Idaho
Illinois
Indiana
Iowa
Kansas
Kentucky
Louisiana
Maine
Maryland
Massachusetts
Michigan
Minnesota
Mississippi
Missouri
Montana
Nebraska
Nevada
New Hampshire
New Jersey
New Mexico
New York
North Carolina
North Dakota
Ohio
Oklahoma
Oregon
Pennsylvania
Rhode Island
South Carolina
South Dakota
Tennessee
Texas
Utah
Vermont
Virginia
Washington
Wisconsin
Wyoming