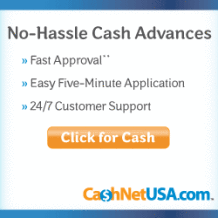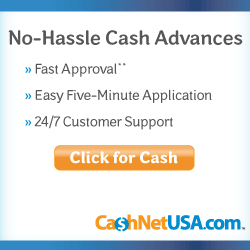 DIRECT LENDER
CashNetUSA is the leading online loan provider offering payday loans, installment loans and lines of credit for the residents of selected states in the U.S. The organization is headquartered in Chicago IL and was established in 2004.
CashNetUSA is a part of Enova International, Inc. a publicly traded company on (NYSE: ENVA) and also a member of CFSA (Community Financial Services Association of America).
They currently offer their loan products and services in more than 30 states, plus they are the first licensed lender to provide payday loans and installment loans over the internet.
The company believes in providing exceptional customer service to their clients. Therefore they have dedicated US-based customer service available 24 hours a day, seven days a week to answer your questions or concerns.
---
Payday Loans at CashNetUSA
Payday Loans at CashNetUSA can help you especially if you have a hard time covering your expenses, and you are in need of some urgent cash. The overall flexibility offered by them is really impressive, to begin with. If you want to get money fast, then you always try to find a good online lending solution that will offer quality and value in a very good package. With that in mind, CashNetUSA can be an interesting option because it enables you to acquire the money you need fast and with a great experience.
CashNetUSA specializes in short term payday loans; the loan amount ranges between $100 to $1500. This amount may vary depending on the state where you are located.
As a direct payday lender, CashNetUSA adheres to the state laws and will not fund loan more than the permitted amount.
Application Process: – The entire process is online, the website and the application form have been designed ensuring that they're compatible with all major devices and also quick and easy to complete. The form contains fields, asking your personal and sensitive information, to protect it all transactions and information is encrypted and sent through an SSL connection.
The company not only offers a quick application that can be completed within minutes, but you also receive the decision instantly. In some cases, borrowers may not qualify for an instant decision and an additional verification may be required.
CashNetUSA doesn't have a lot of requirements, and as a result, it's a lot easier for them to figure out if you have what it takes to receive the loan or not. Also if you get approved for a payday loan, the funds are released by the next business day directly in your account, and they will be ready to use.
Service Details
| | |
| --- | --- |
| Safety | 256 bit secure sockets layer. Verified by Symantec Corporation. |
| State Licensed | Licensed lender, since 2004. |
| Loan Amount | $100 to $1000 in Payday loans.. Amounts may vary depending on the state. |
| APR | Depends on the state law. |
| Loan Period | Depends on the state law. |
| BBB Rating | Not BBB Accredited |
| CFSA Member | Yes |
| Funding Time | As soon as next business day*. |
States Serviced by CashNetUSA
The states serviced may change without prior notice, visit the lender's website for up to date information.
Payday Loans
Alaska
Hawaii
Maine
Michigan
Mississippi
North Dakota
Ohio                         Serviced as Credit Services Organization(CSO).
Oklahoma
Oregon
Rhode Island
South Dakota
Texas                       Serviced as Credit Access Business(CAB).
Washington
Wyoming
Installment Loans
Line Of Credit
Alabama
Idaho
Kansas
Maryland
Utah
Virginia